Friday i went to my uncle's birthday party down in the city. Good food and talked with family i haven't seen in awhile. Saturday T-bone and i did the Doc ride. It was sunny but cool out. Good turnout, 18 or so riders, T and i just sat on the back and hung out most of the ride. 60 miles in, then i had to clean up and go straight to the track.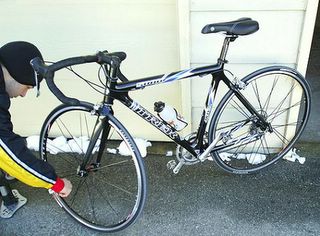 T-bone's ride.

Carnage was the word of the weekend at BMX. When i got to the track on Saturday i felt pretty good after riding all morning. Made the main in open, but in the 2nd moto for class they were taking top 2 to the main, i was leading when the guy in 2nd decided to put me over the 2nd turn. Totally sensless since we were both in qualfying positions, but, whatever. Unfotunately that wasn't the end of it. In the open main i was in 4th setting up an outside move on 3rd going into the last turn when the same dude that took me out of class low/highed me over the turn AGAIN! Alright then, collected 2 IOU's to serve down the road.

Sunday started out promising. Made the semi, then the main in a pretty stacked open class and made the main in class. Open main i had an OK start when the front 2 riders wrecked in the first turn and balled us all up at full speed. A couple riders got through for the trophy spots, so that race was over as quick as it started. Class main, had a bad start, got forced to the inside of the first turn, lost momentum and just rode it out. Despite my results i still had a blast hanging out all
Nathan

weekend with Ray and the Labecki's. Jay raced cruiser this weekend and Nathan's on the brink of turning Inter after only a couple months of racing. That kid can race anything! Fast.
Ray
'
s first!
Props to Ray(Skinny's) for busting out the oldschool Diamondback and taking 2nd on Saturday and 1st on Sunday. Awsome for his first time racing!

That's the weekend in a nutshell. Focus shifts to road training for the next couple weeks. Think i need a break from indoor racing anyway. Hit the Redline race in a couple weeks then that wraps up BMX for me until the Rockford Nat'l in June.

Wow, i need to get to bed.