John called
to tell me the ride was going off at 5:30 tonight. No big deal, i rode around a bit to warm up and came in the back way to the lot a few minutes before go time. Everyone was gone! WTF? Thought maybe John played a bad joke on me. I rode the route backwards to meet up with them. Had a tailwind and went kind of hard because i was little urked about missing the group. Met up with them on the west end of the route and asked Littman when they left, he said 5:30, i said i was there at 5:30, he said they figured everyone was there so they left a little early, oh well. Everyone on the ride seemed to be working pretty hard, but i felt pretty good. Afterwards, i rode around for another half hour and ran into Kyle Guerra, Nathan's brother, and talked to him for awhile on the ride home. I haven't seen Nathan since last year but i'm sure he'll be fast and i look forward to racing with him this year.
Don't know what i'm doing tomorrow yet. If my hand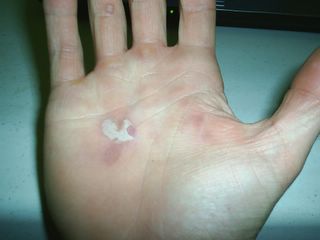 No, it's from riding.

feels better i'll try mountain biking at LP a little bit, otherwise i'll do the Wed. Doc ride. Guess we'll find out then. Out.