So this weekend was the first WEMS race at John Muir. I planned on doing trail work in the morning but was running late so i just went to the race a little early and hung out. When i got to the trails the place was packed with tents, trailers and campers from all the 12hr. teams that were already racing, definitely the biggest event i've seen there in awhile. Instead of doing teams we all decided to do solo races this year. Jay, G, and myself did the 6hr. and T-bone, Nathan Guerra, Lirette, Ry-Man and Nathan Labecki did the 3hr.

6 Hour Race:
Some pretty good experts were in this race so i wasn't sure how i would fair, i knew it's a looong race though and anything can happen. A Le Mans start, we ran to our bikes and i was the second one out. Jesse got out first and was gone with in a few minutes, later i found out he was racing Duo with another guy. I settled into my own comfortable pace and about 5 miles in was riding by myself. On the second lap i saw Gabor Csonka and Jeff Melcher on the attack after me, so i backed off a bit and figured it would be alright to ride with them and conserve some energy. We rode together for a couple laps, trading pulls. After awhile Gabor started to look a little tired, he reached for a gel, dropped it, and stopped to pick it up. Jeff and i kept going and picked up the pace a bit more. We rode together for another lap or so, it's nice riding with someone else in races like this but it can also be a little nerve-racking wondering how much the other guy has in reserve. I was able to gap Jeff a couple times and he always reeled me back in. Going into lap 5, i was able to open up a decent gap, taking CXkings advice, i rode steady until i was out of sight then i made a few small attacks to spread the gap even more, i didn't see Jeff after that. Even though i was eating something or taking a gel every lap i was constantly hungry. The lap i attacked i was getting dizzy and a little tunnel vision, so when i pitted i stuffed 3 fig bars in my mouth and grabbed 3 more in each hand and ate them as i rode back out, then i felt better. I lapped G, he said he crashed and had to fix his bike. My seventh lap i came through at 5:14. I lost track of my lap times but thought i might be able to squeak one more out in time. I sucked down as much water as i could and pounded the big ring more than i did all day, my legs were starting to tighten up but i didn't hold anything back. Came through the timer at 6:01, Bummer! It wasn't all bad though because that's when i found out Jesse wasn't racing against us and i actually won! And took the $60/60mi prime, so that was icing on the cake! Jay took 4th and was excited to finish on the lead lap, Nice job Jay!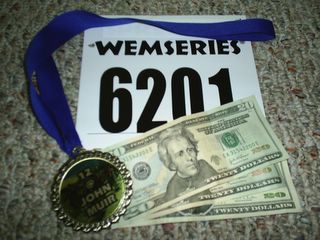 3 Hour Race:
I guess the course wasn't marked properly on the first lap so half the people went the wrong way. Based on average speed(however they figured that out), Nathan G. won it and T-bone took 7th in a pretty hefty field. Good job guys! Despite the screw up i think everyone still had fun.
Full results here.