I know, i've really been slackin'. Yesterday i took a 4 hour nap before going to bed, today i rode 3 hours easy. Now here's my damn race report.
Sweet Saturday:
The Stage race weekend started great. The first event was the time trial where i ricocheted through the rocky singletrack and gunned the climbs to a 5th place finish and 30 bucks. Later in the afternoon was the short track. The start was fast and half the field blew out in the first two laps. I moved into the front group, no one wanted to work which kept us bunched up. I stuck my neck out for a few laps but didn't push it. Half way through Fisher attacked hard and no one charged letting him get away for the win. On the last lap i made a move for second up the hill and thought i had it but the dude charged back right before the finish and i was too spent to hold him off, 3rd was alright. I was sitting 4th in the overall, earning another $40.
Sour Sunday:
My legs felt good going into Sunday's XC race. The nice thing about this race was they gave the pros their own start wave ahead of us. 2 minutes after the pros left we got the GO! AJ and Mike P. led it out, i filed into 4th behind Drankus and rode his wheel for awhile. My plan was to take it easy on the first lap and feel things out. Seth Lenss caught us but i wasn't concerned because we were building gaps on everyone else. Then just as i was getting comfortable, it was Alpine all over again. I slammed through a rock garden and then heard the hissing of all the air rapidly escaping my rear tire. I pulled off, yanked the can of sealant from my seatpost and stuck it on the valve stem. The tire started to inflate for a second then all the crap squirted out from between the rim and stem. DNF.
It was still a fun weekend but i think my season is in the tank. Thanks and good job to Jeremey for loaning me some BIG tires and taking on the big dogs this weekend. Thanks to Mike and the D'arcy guys for the Loctite. Good job to Jay taking 2nd in the Omnium. Great job to Antonia for winning the Omnium and Lirette for another win in Comp. Thanks to Tbone and RyMan for snapping pics and cheering me on Saturday. I know the updates have been sparse but come on, it's been too nice out to play on the computer everyday. Regardless, thanks for checking in.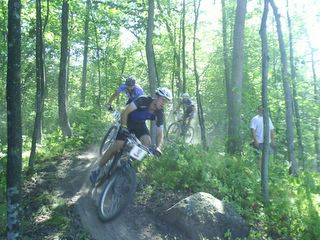 Short trackin'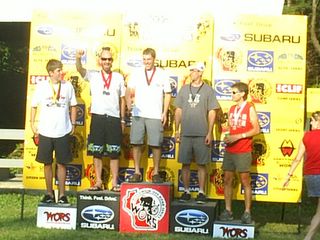 4th, Saturday

Antonia first!

Jay's 2nd